PADI scuba diving lessons Malaysia - scuba dive courses and padi diver certifications in Malaysia.
"Scuba diving, relaxing, action-packed, tranquil, adrenaline pumping, adventurous- this is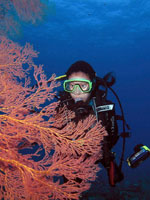 what diving is all about and more..."

Escape to a different world. Scuba takes you to a different world with new colors, shapes, textures and creatures a world where the roles you play husband, wife, mother, father, friend take on a new dimension. Become a scuba diver and escape to a peaceful place to renew your energy and excite your senses.

Can you imagine Scuba Diving in crystal clearwater, surrounded by brightly colored fishes and coral, you and your buddy put on your dive equipment to enter the warm water and explore the abundance of marine life...all the while hovering weightlessly like an astronaut.... It's a different kind of pressure, the kind of pressure you'll want more! Don't keep thinking...begin your scuba lessons now in Malaysia with us!

Diving is FUN, and so is learning to dive, but padi scuba lessons requires serious commitment from both the instructor and student diver. That's because the joy of discovering the beauty and mystery of the aquatic realm is entirely dependent on safe use of underwater life support system.

Please contact us for more information, or click on the link below for a profile of the courses available. Select a PADI scuba diving course
| | |
| --- | --- |
| PADI scuba diving lessons | PADI specialty dive courses |
We also provide courses from Zero to Professional scuba diving instructor courses, Divemaster Internships, MSDT Internships and PADI IDC Staff Instructor Internships in Malaysia and Perhentian island.