Malaysia scuba diving - dive sites of Malaysia.
Malaysia's spectacular tropical reefs boast of encounters with unique macro animals and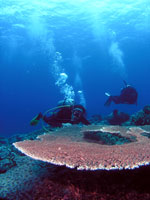 large pelagic within a single destination. Macro animal life is scarce in areas where larger predators are present for obvious reasons. Only a handful of diving sites in the world can offer both these sights in one Scuba diving holiday.

Comprising of the peninsular Malaysia and the states of Sabah and Sarawak, Malaysia rests on the continental shelf of Southeast Asia, with the western coast of the Peninsular Malaysia separated from Sumatra by the Straits of Malacca. The South China Sea separates the peninsular Malaysia from Sabah and Sarawak.

Along the western Peninsular Malaysia coast, the diversity of marine life around the waters of Pangkor Island and Payar Island differ from those observed in the waters of the eastern coast of the Peninsular Malaysia. Perhentian Island, Pulau Aur, Redang Island, Pulau Kapas, Pulau Tenggol and the Tioman group of islands feature good coral growth and abundant fish life.

Surrounded by the nutrient-rich South China Sea and the Sulawesi Sea, the state of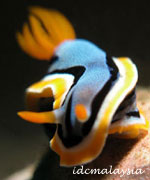 Sabah are the true oceanic depths of 600 meters to more than 1000 meters, different from the waters of Peninsular Malaysia islands. Located some 300 nautical miles from mainland Kota Kinabalu, Pulau Layang Layang is blessed with the best water visibility from 20 to 50 meters. The Tunku Abdul Rahman Park islands are popular for training and easy dives, whereas to fully savour Pulau Sipadan one should be an advance diver. Pulau Lankayan, Pulau Mabul and Pulau Kapalai are famous for their 'muck dives' (that is Scuba diving in the coral rubble areas seeking out macro animals).
Malaysia located in the heart of the Indo-Pacific basin is in the heart of one of the world's richest marine bio-diversity area, where scientists believe the marine life of the pacific ocean evolved.

Climate and Water Temperature:
Malaysia has an equatorial climate with fairly uniform temperatures ranging from 32 Celsius during the day to 22 Celsius at night. Humidity is about 85 to 95% . Water temperature is 27 - 28 Celsius and during the dry months the temperature may rise to 30 - 31 Celsius. Divers will not require thick wet suits. Anything between 1.5 to 3 millimeter wet suit will be comfortable.

Best scuba diving months:
West coast Peninsular Malaysia
East coast Peninsular Malaysia
The islands of East Malaysia are reasonably well protected and are diveable all year round. However, water visibility is better during the months of April to August.

Next

Redang Island