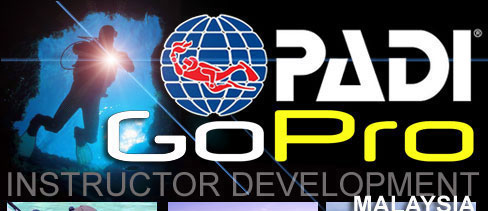 PADI IDC Malaysia - scuba diving instructor development course and career training in Malaysia.
PADI Platinum Course Director SF Chong's PADI Instructor Development Course (IDC) is a 12-day program designed to prepare qualified candidates to become PADI Instructors.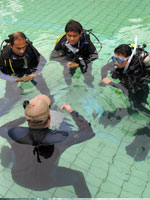 Our PADI IDC in Malaysia is divided into two distinct segments. The first segment is the 5-day PADI Assistant Instructor (AI) course. The second portion is the 7-day PADI Open Water Scuba Instructor (OWSI) program. Together the two courses combine to encompass the entire IDC. Both courses must be completed before attending the PADI Instructor Examination (IE).

Our IDC in Malaysia is actually run as four programs in one starting with the 2-day free IDC Preparation-Study and Prep Workshop, followed by the 5-day Assistant Instructor course, 7-day OWSI course and followed by the 2-day Emergency First Response Instructor before or after the PADI Instructor Examination (IE).

Each segment can be scheduled as a stand-alone course or completed all at one time. You have several training options and flexibility for reaching your professional goals depending on your current certification level, experience level, time restraints, etc. (click here for IDC course overview)


PADI Course Director SF Chong's IDC Malaysia dedication:
Every person taking PADI IDC Malaysia programs is important to us. So, at IDC Malaysia you will not be treated as a number. We like to keep our classes small so that Chong can give you all the personal attention you need and deserve. Throughout your course you will receive individualized counseling and feedback regarding your performance. We want you not only to be able to easily pass the PADI Instructor Examination, but to thoroughly prepare you to begin your scuba diving instructor career in the dive industry. CD SF Chong are always available at the facility after hours to help you with academic study or PADI IDC assignments.

Course Director Chong will also attend the PADI Instructor Examination with you, giving you added support and confidence.

Entry requirement:
Be certified as PADI Divemaster or hold a leadership level certification with another recreational diver training organization.
Be at least 18 years of age.
Be fit for diving and submit a Medical Statement for a diving medical examination conducted within the past 12 months from the start date of the IE must be signed and state Fit for diving ( PADI medical Statement Form recommended).
Have been a certified diver for at least six months and have completed and logged at least 60 open water scuba dives (100 logged dives to attend the IE, as documented in the individuals log book and have documentation of experience in deep, night and navigation.
Submit proof of CPR training within the past 24 months.
Submit documentation (photocopy) of any qualifying certifications issued by another recreational diver training organization.
If not a PADI Divemaster, complete the PADI Divemaster Course Diver Rescue Skills Assessment.
Completion requirements for IDC program:
During the course you'll need to demonstrate competency in dive theory by passing a five-part theory exam scoring 75% on each part.
Performing a facedown, nonstop swim for 800 metres/yards using a mask, snorkel and fins.
Show proof of at least 100 logged open water scuba dives if attending the PADI Instructor examination (IE).
Click here for more information about the IDC schedule and PADI materials. If you have any questions please feel free to contact us. We are here to assist you.
Next: PADI Instructor Examination IE
Not a diver yet? Find out how to GOPRO with us in Malaysia »