PADI Divemaster Course Malaysia - scuba diving dive master internships development course and career training in Malaysia.
Be the best you can be, be a PADI Divemaster!
This is the first professional level in scuba diving training. This course will take you to the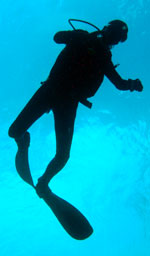 peak of individual diving performance. Not only will your skills be polished to perfection but organizational and leadership skills will also be developed. In addition, your general diving knowledge will be expanded to a very high level. An internship in which you assist instructors in actual training in the pool or confined water and at dive sites will round out your Divemaster training experience.

Your professional dive training leads you through a series of teaching and learning experience programs. It's a challenging road, but the rewards are innumerable. After completion, you will be ready to work as a PADI professional, go on to become a PADI instructor, or simply enjoy your newly acquired training and extensive dive knowledge.

Less than one diver in a hundred becomes a PADI Divemaster, one of the most respected ratings in the diving community. Do you think you could be the one? Take the plunge now! Learn with the best, learn from PADI Course Director Chong in Malaysia!


The PADI Divemaster rating denotes you as a person:
Has a high level of personal diving skills
Has instructor level knowledge of diving theory.
Has had significant training in how to assist an instructor during training activities.
Is able to assume appropriate responsibilities that benefit the welfare of other divers.
As you may know, many PADI Divemasters go on to become PADI Instructors. So, the training and experience you gain through the PADI Divemaster program helps shape your abilities and attitude toward becoming a professional level diving educator.

Our DM - Dive master course in Malaysia involves developing your knowledge of dive theory, assisting on a dive courses, to develop control and problem-solving of diving activities; guiding tours and working on customer relations.

As an optional extra, the Divemaster candidate, once certified, is eligible to enroll in the EFRI Course and be certified to teach EFR courses. The Insured Divemaster may also teach and certify PADI Skin Divers and conduct the PADI Discover snorkeling program, Discover Scuba Diving after completion of DSD Internships as well as conduct the scuba review program for certified divers.

For those on a faster track of time we also offer an option which covers the same information as the internship, but a little more condensed. This can be completed in fourteen days. You need PADI Rescue Diver certification, or equivalent, and twenty logged dives to begin you Divemaster training.

Contact Course Director SF Chong for your PADI Divemaster training schedule.
Next: GOPRO Malaysia
Not a diver yet? Find out how to GOPRO with us in Malaysia »