PADI Specialty Instructor Course Malaysia - scuba diving instructor career training in Malaysia.
PADI Specialty Instructor Training Malaysia
A PADI Specialty Instructor dives more, has more fun and teaches about favorite subjects. Don't see a specialty on a subject that interests you? Write your own specialty! It's easy and it gets you teaching divers about things you like. Whether it's Deep, and Photography, Enriched Air Nitrox or one of your own, PADI Specialty Instructors are out there diving and training. Join the fun.

You're on your way to becoming a PADI Master Scuba Diver Trainer MSDT with only five PADI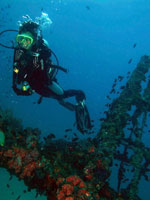 Specialty Instructor ratings:
Enriched air specialty instructor
PADI Oxygen provider instructor
PADI Deep diver specialty instructor
PADI Night diver specialty instructor
PADI Wreck diver specialty instructor
PADI Drift diver specialty instructor
PADI Multi level specialty instructor
PADI Fish identification specialty instructor
PADI Underwater naturalist specialty instructor
PADI Underwater navigator specialty instructor
DSAT Gas blender specialty instructor
PADI Digital underwater photography specialty instructor
PADI Diver propulsion vehicle specialty instructor
PADI Search and recovery specialty instructor
As a PADI Specialty Instructor, challenge your students to become Master Scuba Divers.

Increase your marketability as a PADI Professional. Become a PADI Specialty Instructor – with a Course Director SF Chong and teach courses that interest you! Offer more, do more!
Next: PADI Master Scuba Diver Trainer MSDT Prep

Contact Course Director SF Chong, let Chong knows if your have any question about your instructor continuing education opportunities and he will be happy to answer all your questions.
Not a diver yet? Find out how to GOPRO with us in Malaysia »