PADI IDC Malaysia - How best to prepare for your IDC scuba diving instructor career training in Malaysia.
Beneficial Preparation for the PADI Instructor Development Course (IDC):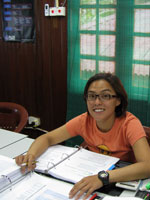 The PADI IDC is a very intensive course, which prepares you for the Instructor Examination (IE) and real world teaching. It also covers aspects beyond the IE that will assist you in becoming a knowledgeable practicing professional.

Over the years we noticed that participants had problems when they arrived here with insufficient preparation. They had to work harder during the IDC than other candidates because they had to learn things which they should have known already. As a result task loading and a higher degree of stress followed.

PADI System, Standards and Procedures
This part will be covered during the IDC. Do not try to learn all the Standards there are. That is not necessary at all. Your preparation will be in having an updated Instructor Manual. Contact us for update details or check the PADI Training Bulletins. You should know which sections the Instructor Manual contains and how to find them.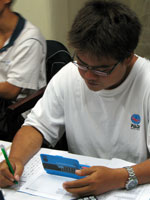 5 part dive theory
Prepare your diving knowledge. You will be evaluated in five topics: Physics, Physiology, Equipment, Skills and Environment and the Recreational Dive Planner (RDP), the Table and the eRDP-ML.
One big misconception of some candidates is that they will learn these topics within the IDC. This is basically wrong. All these dive theory subjects have previously been covered in the Divemaster program. It is not part of the IDC curriculum. We will test that particular knowledge, we provide feedback and our Staff also gives remediation. However, do not expect to be taught in these areas in its entirety.
A very good preparation is the Diving Knowledge Workbook, which you should be familiar with from your Divemaster training. If you are able to give the right answers and explain why the other options are wrong, there is nothing you have to worry about in the IE. Back up your knowledge with the Encyclopedia, but do not try to learn the whole book word for word!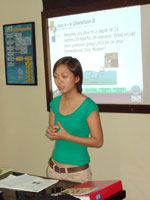 Knowledge Development Presentations
Teaching Presentations will be covered in detail during your IDC course. It helps to be familiar with the Student Manuals and Instructor Outlines of the Open Water Diver course, the Adventures in Diving program, the new Rescue Diver course and the Divemaster course.

Confined Water Teaching Presentations
During your IDC course you will learn how to teach effectively in confined water. During the IE you will be asked to present one skill from the Open Water Diver course. Watching the PADI Open Water Diver video would be helpful to refresh yourself. Also rescue skills will now be included in the IDC and IE; therefore it would be a good idea to review the Rescue Diver DVD.

Confined Water Skill Circuit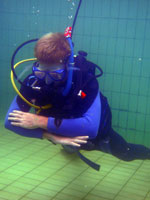 Review the confined water training skills of the Open Water Diver course. A helpful tool is the PADI Open Water Diver video. There you can see these skills in demonstration quality. The same Evaluation Criteria are used as with your Divemaster course.

Open Water Teaching Presentations
Be familiar with the Open Water Diver and new Rescue Diver course in particular. Skills from some Adventure Dives are now included in the IDC and IE as well, particularly Search and Recovery (knot tying and lift bag use), Underwater Navigation and Peak Performance Buoyancy.

Open Water Rescue Demonstration
Especially if it has been a while since your Rescue Diver and/or Divemaster course, it will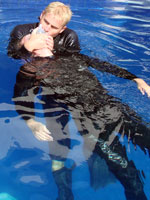 be necessary to review parts of the Rescue Diver course. You will have to demonstrate proficiency in Rescue Exercise 7 'Unresponsive Diver at the Surface'. A good idea would be to watch the video and practice again. Proficiency in mouth-to-mouth and mouth-to-pocket mask ventilation is expected and will be evaluated in the IE.

Swim test
One evaluation part is the 800m snorkel swim. Although there are generally no problems, it requires a certain degree of fitness. Obviously swimming with mask, snorkel and fins, using your fins only and face down, is the ideal preparation. The swim test is already completed during the IDC.
Click here for more information about the IDC schedule and PADI materials. If you have any questions please feel free to contact us. We are here to assist you.
Next: PADI Assistant Instructor Course (AI)

Please feel free to email Chong for question and enquires, Chong is always ready to assist you in any way he can.
Not a diver yet? Find out how to GOPRO with us in Malaysia »