CPR first aid emergency first response basic life support courses in Malaysia.
One of the most useful courses you can have the pleasure to learn. PADI EFR is an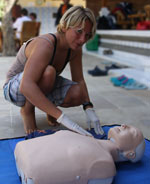 internationally recognized medical certificate. Want to be ready in an emergency? Then this program is for you! The emergency first response program covers basic training for cardiopulmonary resuscitation (CPR) and emergency care first aid. In addition, it's a medically based program covering primary care, secondary care and treatments following national consensus guidelines.

Primary Assessment
Half-day course which will teach you how to handle life-threatening emergencies/injuries and the usage of the AED (automatic external defibrillator).

Secondary Assessment
Half-day course that teaches you how to handle non-life threatening emergencies/injuries. So if you're seeking CPR/first aid training to meet a diving program requirement or for personal enhancement, especially family with children this program is for you.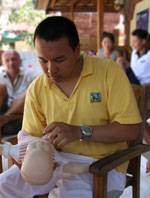 Take a step toward emergency preparedness and meet PADI Rescue Diver prerequisites with Emergency First Response. As one of the foremost international CPR and first aid training companies, Emergency First Response gives you the confidence to respond to medical emergencies -- not just in the diving world, but in your every day world with your family, friends, neighbors and coworkers too.

Emergency First Response courses encompass:
CPR for adults, children and infants
First aid for adults, children and infants
Automated External Defibrillator (AED) training



Please contact us for more information, or click on the link below for a profile of the courses available. Select a PADI scuba diving course
| | |
| --- | --- |
| PADI scuba diving lessons | PADI specialty dive courses |